Archives
LIKE us on Facebook for up to the minute news!
Darth Vader - Thereminist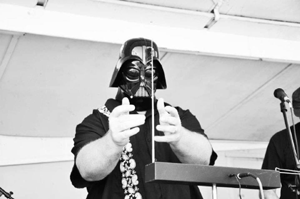 Celebrities love our instruments! Impressing all those around, David Gorbe channels Darth Vader on the B3 Deluxe Theremin.
We love to see 'our' musicians in action. Please keep those pictures, videos and links coming! Thanks to David for originally posting this picture on our Facebook page.
Italy's Laslo Gottardi Rocks The Zep Theremin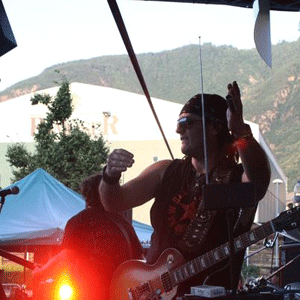 Looks like my kinda festival! Laslo plays regularly in and around Bolzano, Italy. I'd like to see one of his performances.
If you attend a festival or concert and see/hear a theremin anywhere in the world, we'd like to know about it. Please drop us a note, a Facebook post or a tweet. If you get a picture, we'd like to see it. Let's spread the word.
Rocking The B3 Deluxe Theremin at Florida's Polacek Museum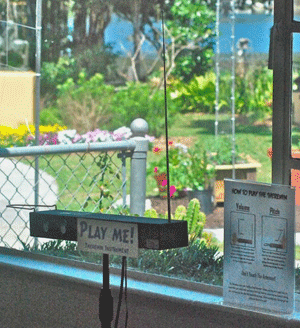 Thanks to Bobbo Goldberg for the tip (and picture)!
A recent installation at the Polacek Museum in Winter Park, Florida featured our B3 Deluxe Theremin. Called 'Maidens and Monsters: The Art of Science Fiction, Adventure and Fantasy", we hope you had an opportunity to visit this wonderful installation.
Justin Conn Gigs With The Zep Theremin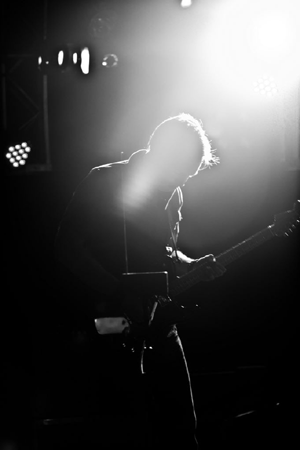 Justin Conn has added the Zep Theremin to his repertoire. He recently gigged at 12th & Porter in Nashville. If you have an opportunity to check out this talented musician, by all means go! To quote Justin, "It's Southern fun 'n roll, for all mankind..."
Professor Philip Moriatry Explains the Theremin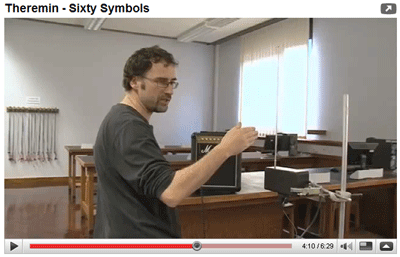 Professor Philip Moriarty of the University of Nottingham explains the theremin - featuring the Zep Theremin!
This is one cool YouTube Video. Produced as part of the University's 'Sixty Symbols' event, Prof. Moriarty demos the Zep Theremin while all the while explaining the instrument in an entertaining and accessible way. Click on the picture - you'll be taken to a link where you can see the entire video. Brilliant!
Mississippi Arts Hour Features Thomas Grillo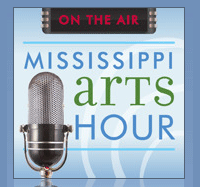 Available via iTunes, this free podcast features musings and music. It's well worth the effort to track down this gem. We love it!
Have you run across other podcasts featuring the theremin? Let us know!
Jamming at Fondren Guitars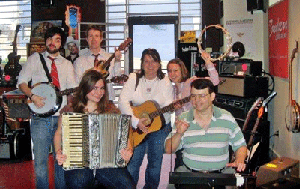 Impromptu gigs are the order of the day at Fondren Guitars, Jackson, MS. Visit this recommended retail outlet and join the band!
Demo Success!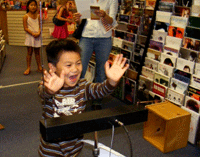 Thanks go out to everyone who came to Barry Schwam's live demo of the B3 Deluxe in Pasadena. New thereminists are minted everyday!
Thomas Grillo and the B3 Pro Theremin Featured in the Jackson Free Press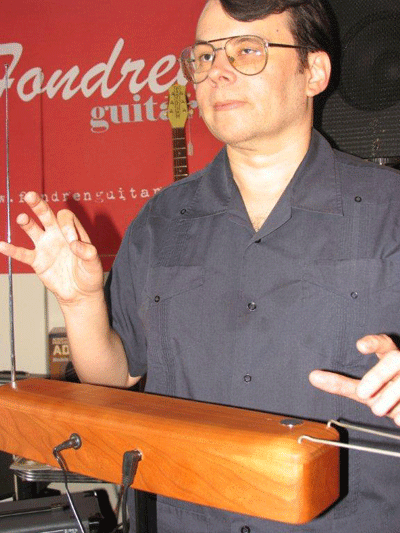 The article speaks for itself. Check it out!
Photo Courtesy of Larry Morrisey of the Jackson Free Press.
Golgotha Film Premiere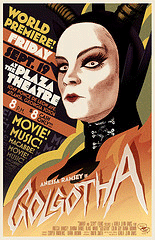 If you have an opportunity to see this film, don't wait - see it now. A labor of love by Atlanta's own Karla Jean Davis, Golgotha is a visual treat and an aural pleasure. The soundtrack is a gift to the theremin afficiandos everywhere. It may possibly contain more theremin music than any other motion picture. Thomas Grillo, Randy George and Kevin Kissinger all contributed to the score.
Thomas Grillo added a great deal to the evening by performing a haunting improv duet for a half hour before the screening. Playing the B3 Pro Theremin, he was accompanied by Joel Patchell on keyboards.
It was a special evening.
A Visit to Fondren Guitars, Jackson, MS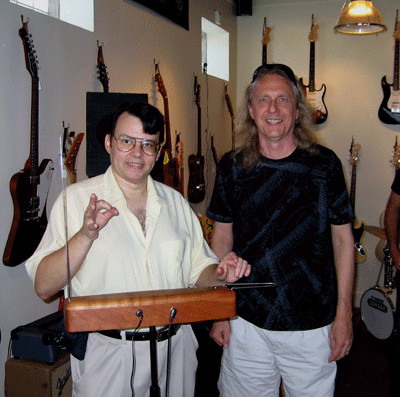 As Hurricane Gustav barrelled towards Louisiana, we visited Thomas Grillo during one of his performances at Fondren Guitars. It was our distinct pleasure to enjoy the jam and meet proprietor Patrick Harkins. If you find yourself in the area, stop by for a visit and enjoy the music.
B3 Deluxe Player Modification Alert!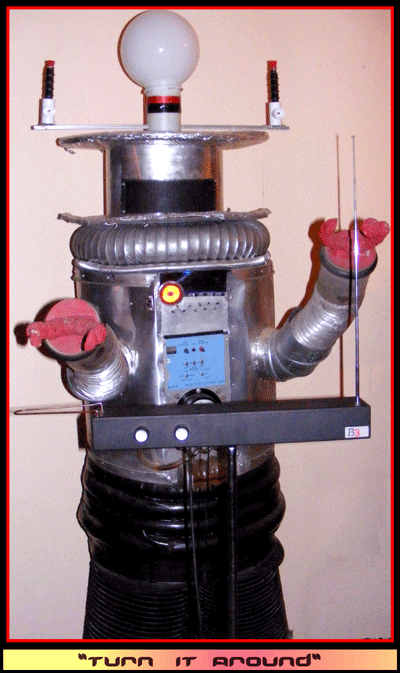 Barry, aka 'Schwump', is a great friend of Burns Theremins and a former member of 'The Residents'. Guaranteed to put a smile on your face, Barry has been making music for decades. It looks like the SchwumpBot is rockin' the B3 Deluxe. Maybe he'll make an appearance on the next DVD!
Burns Theremins at Bonnaroo!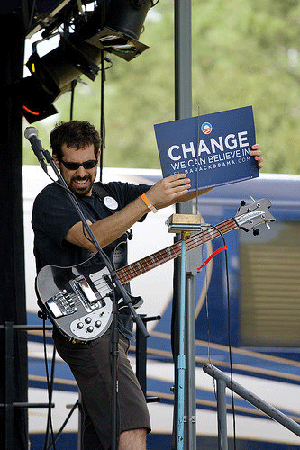 At least two of our theremins made an appearance at Bonnaroo '08 in Tennessee. Lez Zeppelin showcased the Zep Theremin, while Morningbell's B3 Theremin rocked the crowds of Manchester. Check out Eric Atria's B3 Theremin with the custom paint job! If you know of others, let us know!
Lydia Kavina, Carolina Eyck & Dan!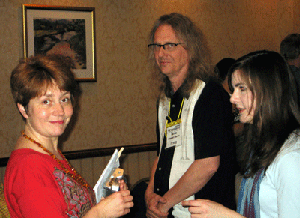 Ether Music Fest, Asheville, NC was all things theremin for four days. Need I say more? An absolutely stellar lineup of performers including Lydia Kavina, Carolina Eyck, Thomas Grillo, Randy George, Kevin Kissinger and many more were in attendance for concerts, workshops and informal discussion.
Randy George, Thereminist and Inventor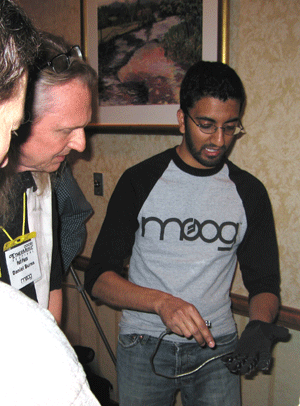 Ether Music Fest, Asheville, NC. Thereminist Randy George explains the finer points of his handbuilt data glove to Dan.
Theremins + Baseball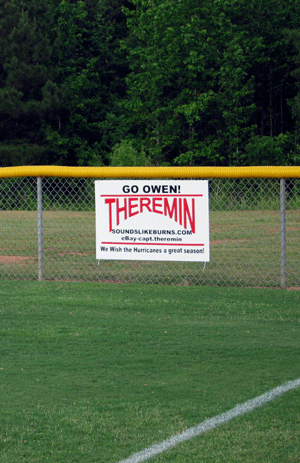 Burns Theremins was the proud sponsor of the Walton County Recreation Department's Hurricanes Baseball Team. These incredible 5 & 6 year olds made it all the way to the championship game!
Sci Fi SummerCon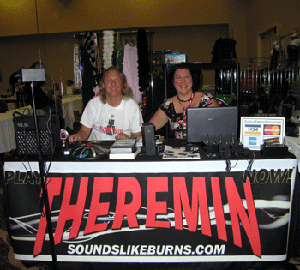 This convention in Marietta, GA is always fun. A yearly event, you can always count on the odd Klingon, fairy or Froddo to stop by our table.
Data's Brother Plays the Star Trek Theme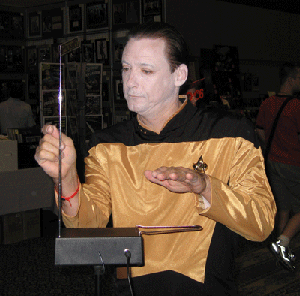 The celebration of 40 Years of Star Trek was a great opportunity to introduce theremins to a new generation of musicians, fans and new friends. We had a wonderful experience.
Robots Love Theremins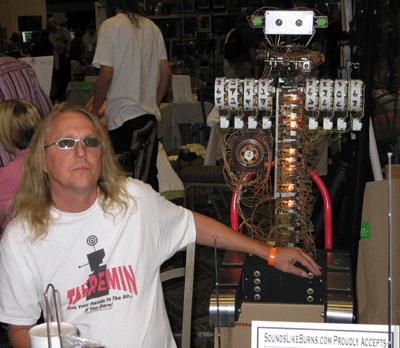 Dan built a smokin' robot especially for the Star Trek Celebration.
Theremin Prodigy!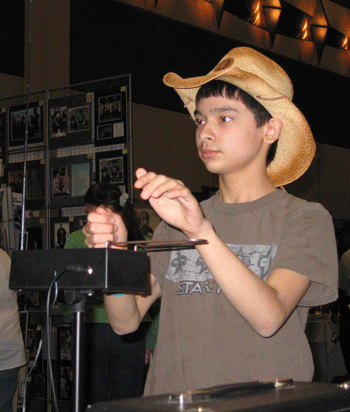 This guy was the most pleasant surprise of the day. A prodigy, we hope that he continues to play his convention acquired B3 Theremin to this day!
Trek Celebration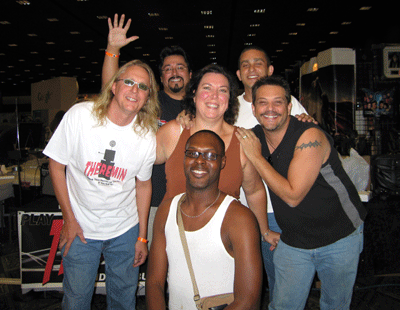 We were very fortunate that our booth at the 40 Years of Star Trek celebration was located next to Mario, John, Jesse and Travis. Mario Della Casa is a gifted artist. We really enjoyed watching him paint, viewing his art and spending time with our new friends.
South Carolina Guitar Expo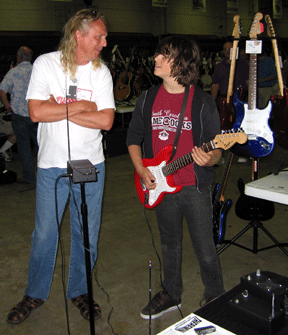 The 2006 South Carolina Guitar Expo provided us with a wonderful opportunity to meet theremin owners and collectors. Dan also had fun introducing new, potential players to the art of the theremin. Thanks to everyone who came out and stopped by the booth. It was a great show.
Inaugural Tulsa Guitar and String Show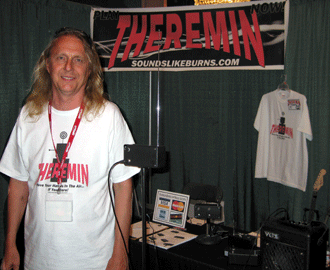 This show was a huge success! Many theremins now have new homes and Dan performed a stage demonstration. We continue to feel honored that we could be a part the beginning of a great annual event.
Guitar Neck Theremin Player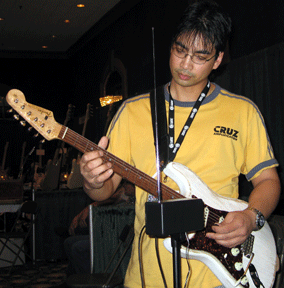 Tulsa provided many opportunities to try out different theremin models. This multi-tasking musician enjoyed playing the theremin and the guitar - at the same time!
Fangoria's Weekend of Horrors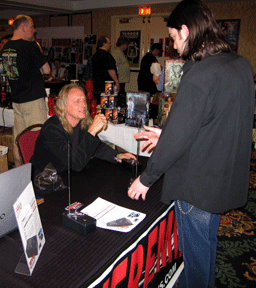 Burns Theremins traveled to Chicago for Fangoria's Weekend of Horrors. Filmmakers, actors, actresses, artists and fans alike enjoyed their chance to get their theremin(s) directly from Dan.